Did you already read Part 1 and Part 2 of this newbie-series? Cool 😀 This article is also available in German. / Dieser Text ist auch auf Deutsch erschienen. Hier klicken!
Today I will describe my very personal experiences and learnings about being new: From starting in my professional career several times, going to work "for the first time", having to start over again and again, getting disappointed and a bit too involved; Only to find out that your surrounding people (in my case: at Innsbruck) don't like new things at all, so you can't move forward.
---
Especially as a junior, you hardly know what to expect from employers, the teams and the professional environments. One hardly knows when it is time to look for something new. As a newcomer, you are also a bit unfree: because you pay a lot of rent and there is little salary. This can take away the chance to try out different jobs, to reject them or even to turn to a new city. But one thing at a time…
---
Connected on an hourly basis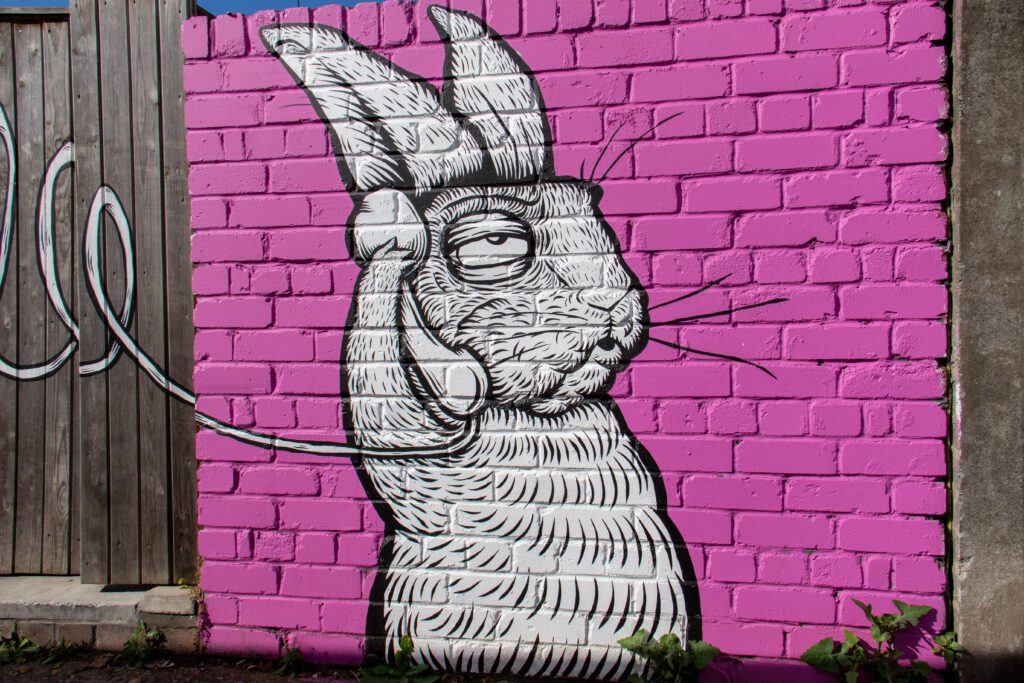 As indicated, I thought at the beginning that I would find connection to city and work through team colleagues in the agencies, possibly privately, but in any case: professionally. Of course it was mainly about work. But beyond that, I made cupcakes, shared my knowledge of new tools & methods, invited for dinner, initiated hikes and evenings in the bars of Innsbruck. In the small owner-managed agencies, however, everyone was "from here" and mostly busy with themselves or their work. They were sufficiently "supplied". It was clearly noticeable that they had never been new anywhere or had been looking for a new friend or just connection. And quite obviously there was no interest in new things. Or me.
The noticeably low level of professional or intercultural exchange also created interesting phenomena in daily work: One was stuck with old-fashioned design and processes, a degree was underestimated, people reproduced and copied instead of innovating. Home office, flexible and trust working hours, agile or binding working methods/processes, further training, annual target agreements or even flat hierarchies were also hardly common. And some of the agency patriarchs were even widely considered despots.
---
Little of everything
Trapped for a while, I gradually realized how narrow the city was, and above all what this meant professionally: few residents meant, few people for individual hobbies, friendships or the typical relationsships, connections and contacts (Austians name this "Vitamin B". "B" stands for "Beziehung" in German, which might be translated with "relationship"). Many students, but no design studies meant, hardly anyone learned or taught professionally what was needs do be designed in the tiny creative agencies. Few designers meant no or hardly any events, networks and exchange for creative people. Few residents also meant a small and competitive market for creative services. A manageable market meant hardly any selection of employers, projects and clients; Or salary. And many, but small agencies meant few opportunities for personal responsibility.
Somehow the shoe didn't quite fit: the agency industry was manageable, outdated, full of egos (ever seen "Mad Men"?) and without a certain self-image of creative identity and work. Potentially logical, because the offer for further trainings or education was still in its infancy: After all, there was no creative scene, meet-ups, barcamps or anything international. The people in the advertising, marketing and design scene had hardly studied and had ever worked elsewhere or even outside the region and the "tourism marketing"-industry. There was simply no platform for professional exchange between Innsbruck's designers. An attitude towards own work and tasks could not develop in this way and was not noticeable anywhere.
---
I want to break free
Having always been self-employed, after a while I free myself from the employment and worked independently nationwide. My own livelihood or next career steps would not have been possible under my conditions only being in Innsbruck. If ones are not directly employed in the tourism industry, ones don't want to do marketing for hotels, beers and the Chamber of Commerce or ones know someone who knows someone who knows someone… Well, times were hard and instructive. And yet, thanks to appropriate quality and a little bit of "Vitamin B", I soon had my own clients from the IT and services, data security, banking and healthcare industries. I worked for former employers, but also made contacts in the start-up scene and offered design and user-centric consulting at local universities.
I saved up, I tried myself, I failed sometimes and yet – I had one goal: to get away and get on. I had finally realized that Innsbruck was too small for me and my ambitions. I needed something new, bigger, international, but also resilient and reliable work processes. And I wanted to work in a team again.
---
Tips and learnings: "Being welcome and developing"
It's not unlikely that – as a designer – one will try out different things and move to another city from time to time. For my next career step and move, I reflected on my goals and wishes regarding a new location and what I would value for my new working environment. I learned from my first professional years.
Based on my experiences, for me today, among other things I am asking myself some challenging questions regarding a new, potential location: How economically strong are which sectors and industries there? Are there corresponding potential employers? How many? Do their size and organization allow my career and growth aspirations?
For someone who usually moves in favor of a "better" job: If possible, I look for a company with a welcoming culture. Diversity in the work environment can be queried, e.g. at job interviews, or to be shown, e.g. on a trial working day or within a freelance project: What does the company envision an onboarding? What is an induction planned? Is there e.g. a newbie buddy? Are there corporate values, are they trained and are they incorporated in everyday project work? Is there a feedback and failure culture?
Of course, you could also travel to larger events in other cities, e.g. at conferences, bar camps and trainings. But for everyday life it is helpful if there are many, diverse, informal settings for creative people on site. Local, low-threshold and free (or inexpensive) offers, such as meetups, readings and design forums encourage the exchange and learning of many, including young people, who are talented and interested in design. This is how you can network and think together about a certain attitude.
A small plus, but not easy to grasp, is the stimulating and appreciative environment in a city that offers design studies and courses; This might cultivate an open exchange with them for whole society. The everyday experience is often shadowed by a high design quality (from flyers or corporate designs to urban orientation systems or installations in public places). Because exchange will not only in the regular, open semester exhibitions at universities, also through an exchange (via internships, design activities in the city) between students, local agencies / corporates. Ideally the appreciation, quality awareness and an eye for "good design" of an entire city and its residents increasing.
---
Don't stop me now
After a while, being self-employed, I expanded my business, but back then I was not up for the mountain of challenges: The Tyrolean market was too small, I was tired of traveling nationwide, I didn't want to teach my colleagues and employees or were not ready to build up a design scene in a city. Especially since one was really not open to new things. I was tired of it. I was exhausted and hungry at the same time. Next time I wasn't looking for a home or friends, but a place of work (and therefore a city) that welcomed me. I searched and found.
Nowadays, in my professional sphere too, if I am recognizing "newbies", I am exceptionally inviting and share my network and knowledge. I go to lunch with them, sometimes for a coffee, and position myself personally and invitingly; be it at the evening happy hour in the company including a round of introductions, the tip for a good restaurant or help with processes and organizational matters relating to work.
Because we were all new somewhen…
Well, except maybe some of the Tyroleans 😉